TIGER'S VOYAGE
Information
Author
Illustrator
Publication date

September 4, 2012

Published by

Sterling Publishing

Pages

445

ISBN

978-1-4027-9843-6

Publication Order
Preceded by
Followed by
| | | |
| --- | --- | --- |
| " | A tear dropped from my cheek to his forehead. "Please don't die," I whispered. | " |
Tiger's Destiny is the fourth book in the Tiger's Curse series by Colleen Houck. It was released September 4th, 2012.
Official Summary
Edit
Honor. Sacrifice. Love.
Will the end of everything lead to a new beginning?
After surviving three dramatic, action-packed adventures, Kelsey, Kishan, and Ren now face their final challenge to find the goddess Durga's Rope of Fire. But the tables are turned: the sorcerer Lokesh has kidnapped Kelsey. If she escapes his clutches and successfully breaks the tiger's curse, Kelsey will free her beloved princes. But in doing so, she then must also make the hardest decision of her life.
The path ahead is perilous for all, with even more dangerous beasts to battle and potentially fatal twists that no one could ever have predicted. Only one thing is certain: they cannot escape their true destiny...
Tiger's Destiny spins a deliciously suspenseful tale of enchanted creatures, love-torn hearts, and edge-of-your-seat action as Kelsey, Ren, and Kishan take on their final challenge to break the tiger's curse.
Coming soon
Poems in this novel include:
"Rising Phoenix" by Colleen Houck
"The Deserted House" by Alfred, Lord Tennyson
"Sonnet 30" by William Shakespeare
"Mistletoe" by Walter de la Mare
"Eldorado" by Edgar Allan Poe
"Sonnet 50" by William Shakespeare
"I Promise" by Ren (Colleen Houck)
Coming soon
"The Tiger's Curse Series has everything my heart could desire in a fantasy: exotic locations, two dashing princes, good vs. evil, the promise of danger and adventure lurking around every corner—and did I mention two dashing princes? Warning: these books may cause you to forget anything else exists until you've turned the last enthralling page. And then you'll want to start all over again!"
—Bree Despain, author of the Dark Divine trilogy
"Ablaze with fiery passions—and sheets of actual fire too—this conclusion to the Tiger's Curse quartet brings Oregon teenager Kelsey and the two Indian were-tiger princes who have divided her heart through a climactic battle of final, bittersweet mate selection....[Readers] are sure to be left throbbing and misty-eyed."
—Kirkus Reviews
Official Book Trailer
Edit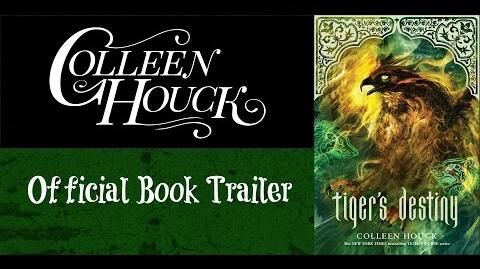 Ad blocker interference detected!
Wikia is a free-to-use site that makes money from advertising. We have a modified experience for viewers using ad blockers

Wikia is not accessible if you've made further modifications. Remove the custom ad blocker rule(s) and the page will load as expected.